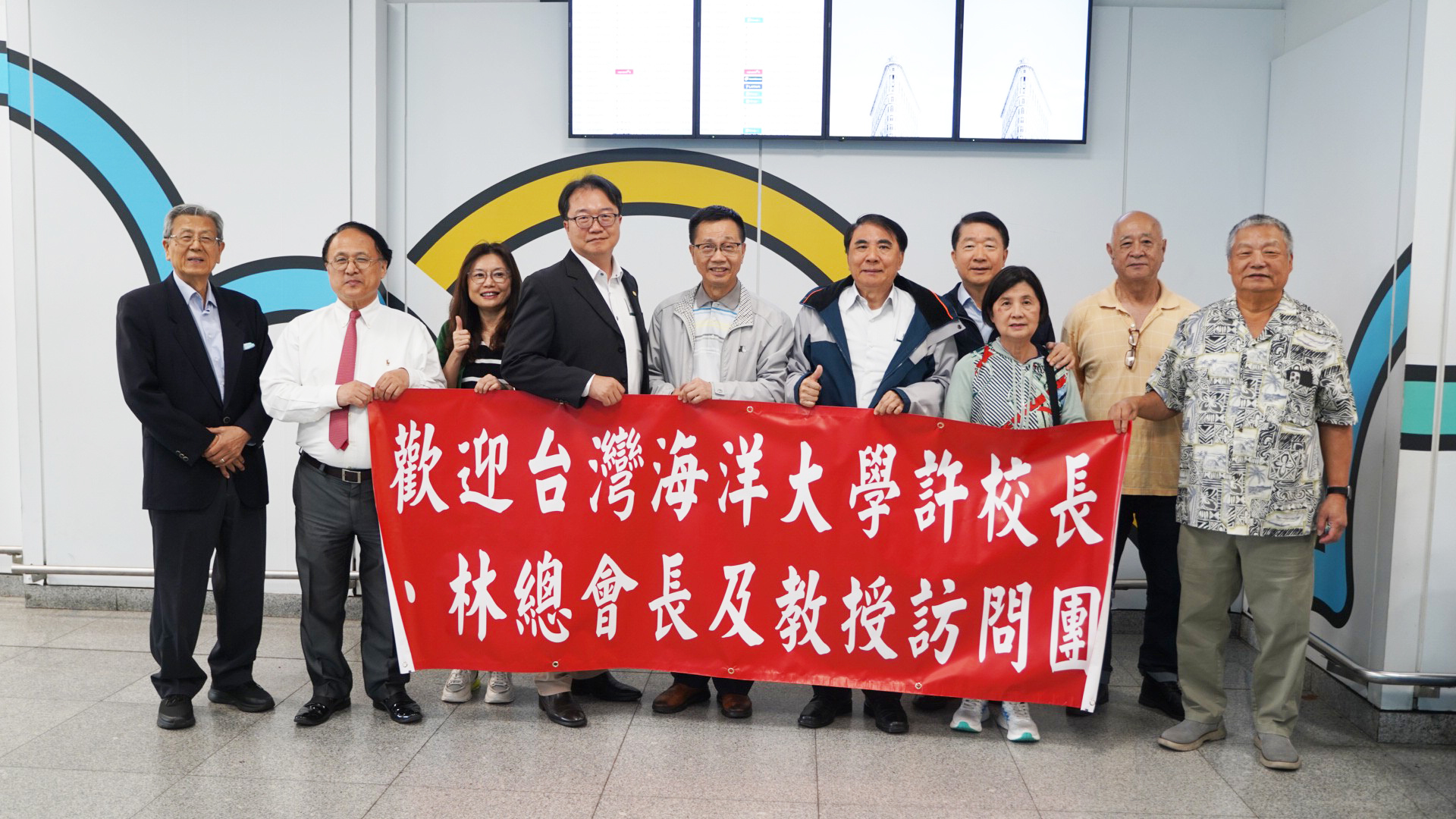 In an effort to foster international talent cultivation and exchange, a delegation led by Dr. Tai-Wen Hsu (許泰文), President of National Taiwan Ocean University (NTOU), embarked on a 14-day visit to the United States from August 3 to 16. The delegation, including prominent NTOU alumni association members, engaged in a series of impactful engagements aimed at enhancing collaboration with sister schools and international industries related to the ocean.
The visit commenced with President Hsu delivering a keynote speech on August 12 at the 48th Annual Conference of the Chinese-American Academic and Professional Society (CAAPS). The speech titled "2050 Net Zero Carbon Emission Plan - Offshore Wind Power and Ocean Energy" highlighted Taiwan's innovative strategies in the field. President Hsu emphasized NTOU's unique approach of conducting physical tests under real sea conditions to assess the resilience of offshore wind turbines against natural challenges like typhoons, waves, and corrosion. This strategy seeks to enhance power generation efficiency and foster interdisciplinary talent.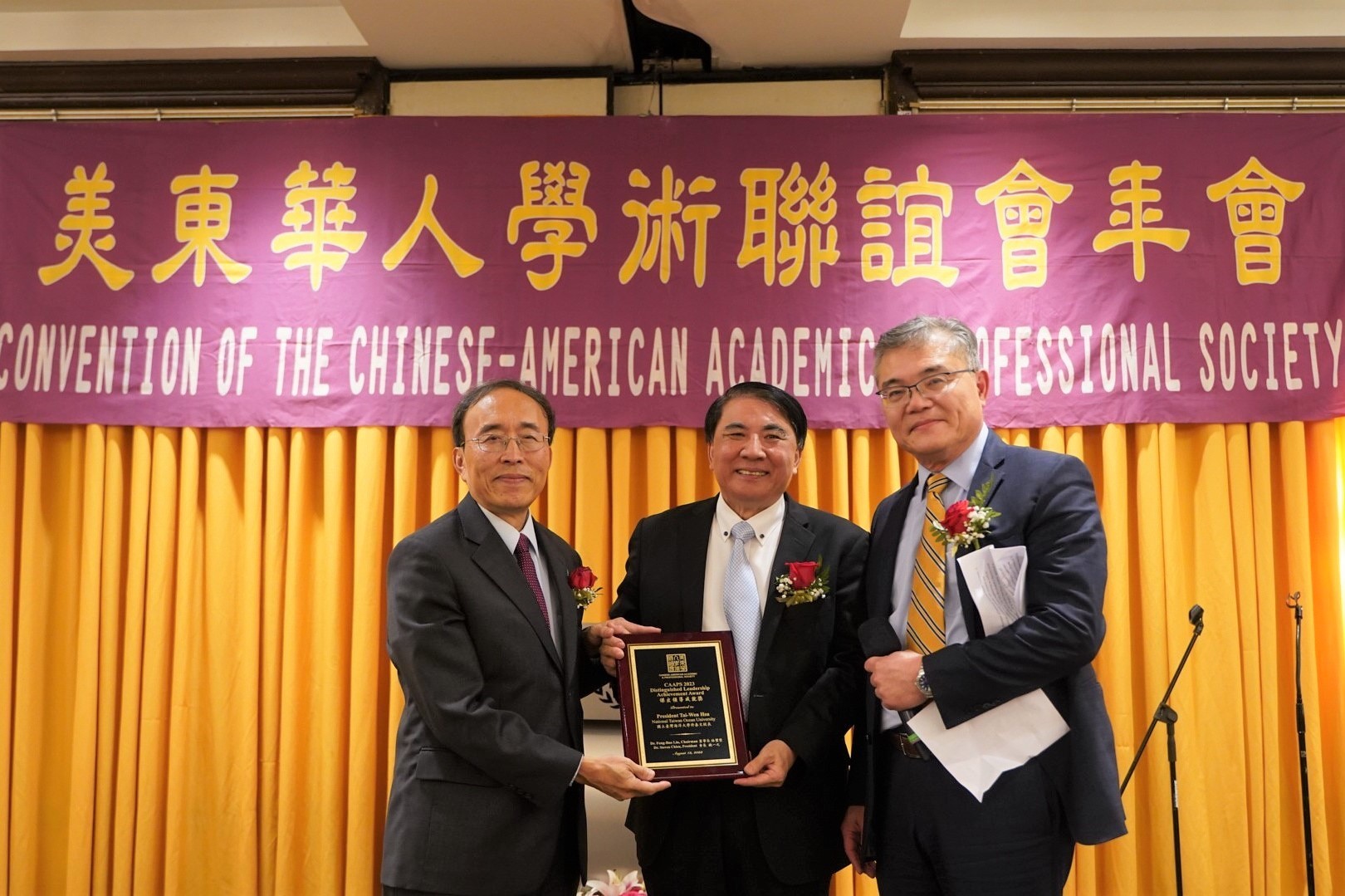 Dr. Tai-Wen Hsu delivered a keynote speech at Annual Conference of the CAAPS.
During their time in San Francisco, the NTOU delegation was welcomed by distinguished alumni, including Mr. Charles Lee (張潁浚), Mr. Chien-Sung Lin (林見松), and Mr. Shin-Min Lee (李新民). Discussions were centered around NTOU's 70th-anniversary celebration and plans to bolster collaboration between the university and influential alumni across various fields.
NTOU's commitment to integrating AI technologies into ocean-related research areas was demonstrated during visits to NVIDIA and Apple headquarters on August 4. These efforts showcased the university's dedication to advancing aquaculture, shipping, maritime engineering, environmental conservation, and ecology through cutting-edge research.
The delegation's presence was felt during a significant alumni gathering on August 4, where esteemed alumni such as Dr. Bronson Hsieh (謝志堅) and Chi-Hsiang Wang (王啟祥) attended. This event led to generous donations to support NTOU's 70th-anniversary fund. Subsequent visits to Los Angeles and interactions with prominent alumni Charles Lee and Laura Lee underscored NTOU's commitment to providing opportunities for underprivileged students.
The delegation received enthusiastic receptions from Taiwanese business leaders, including former president of the World Taiwanese Chambers of Commerce, Mr. Chien-Sung Lin (林見松), who serves as a National Policy Advisor to the President. Notably, the visit to the University of the West on August 7 resulted in the recognition of JP Wang (王家培) with an honorary doctorate. Wang's dedication to supporting NTOU students was evident through scholarships and donations of teaching equipment.
Arriving in New York on August 8, the delegation was warmly received by Mr. Kow-Ching Chang (張國慶), President of the East Coast Alumni Association, and other distinguished alumni. The visit included engaging discussions, an elegant dinner attended by prominent alumni, and a meeting with Dr. James S. C. Chao (趙錫成), founder of Foremost Group. Dr. Chao's contributions to the maritime industry and philanthropy were acknowledged with the establishment of the "Mulan Education Scholarship Fund" at NTOU.
From left to right:
(Pic. 1) Took photo with Dr. James S. C. Chao. (Pic. 2) New Jersey office of Yang Ming Marine Transport Corporation. (Pic. 3) State University of New York Maritime College
During their visit, the NTOU delegation signed a memorandum of understanding (MOU) with the State University of New York Maritime College (SUNYMC) to offer dual degree programs, bridging science and business administration. This initiative aims to provide students with comprehensive international education opportunities.
The culmination of the delegation's efforts was President Hsu's keynote speech at the CAAPS conference on August 12. The speech, centered around NTOU's ambitious plans for net-zero carbon emissions by 2050 through offshore wind power and ocean energy, garnered recognition. President Hsu's accomplishments were further acknowledged as he received the Outstanding Leadership Achievement Award. The delegation's remarkable journey also included insightful presentations by Vice President Cheng-Yu Ku and Chair of the Department of STM Dr. Feng-Ming Tsai.
NTOU's 14-day U.S. visit underscored the university's commitment to international collaboration, innovation, and nurturing future ocean leaders. The engagement with prominent alumni, industry leaders, and academic institutions solidified NTOU's role in shaping the future of marine science and research.